PRESIDENT
Mr. Toshiyuki Kamanaka
Born in April 10, 1937 in Aridagawa-cho Arida-gun Wakayama prefecture, Graduated from Wakayama Prefectural Wakayama Technical High School in 1956.
After graduating, he worked for 12 years at Kao Corporation's Wakayama Factory, where he was in charge of the
packing machinery and equipment. With his zeal for doing something different and to serve the packaging industry that he once enjoyed working in, he ventured to establish Kishu Giken Kogyo Co., Ltd., a specialized manufacturer of roller coders, in the year 1968. His hobbies include playing golf and gardening in his free time. He has been awarded a
Yellow-Ribbon Medal (Oju-Hosho) in November, 2005.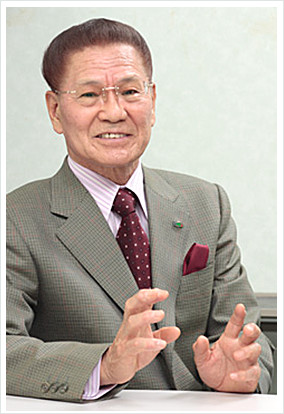 KGK JET a Universal Inkjet Printer Manufacturer
Kishu Giken Kogyo Co., Ltd. (Kishu Technical Research Institute) acquired a patent for automatic stamping technology in the 1960s.
KGK Jet have played a pivotal role in the roller coding technology in Japan and have established ourselves as a total manufacturer.
We have driven the cutting edge in the field of printing by developing inkjet printers with the Piezo Type Drop on Demand formula (DOD) for the international market. We began our operations initially by hiring only machine technology specialists.
However as the time progressed and with the demand for such technologies improving, we added many electrical engineers to compliment the activities.
Chemical Engineers also came into the fold to develop inks.
Our Ink development team is proficient in developing all kinds of speciality inks used in the industry such as Tablet inks, UV Hardening inks, Edible inks, Strong Adhesive inks etc.
We have also bolstered our capability by developing metal nanoparticle inks to enable us foray into the field of semiconductors.
For many years, KGK has been a unique Japanese business integrating the 3 technological developments and manufacturing process for our head ink system, in house.
We have been very successful in this and pride ourselves on this strength.
At KGK, the sole contributing factor of development has been our ability to consistently upgrade ourselves to match the technologically progressing times, for example, we started with a machine shop, then strengthened ourselves on the electronics side notwithstanding the chemistry lab to develop inks.
The emergence of KGK in the semiconductor industry endorses our determined approach.
We will continue to strive to cater to the ever demanding global needs.