600 dpi High-Quality Inkjet Printer.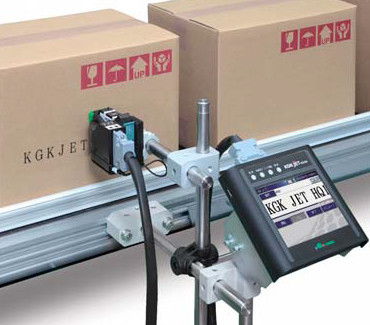 Uses an ink cartridge with integrated 300-dot 600 dpi nozzle.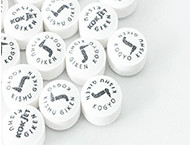 In addition to dates and lot numbers, it can print QR codes, data matrices, and barcodes clearly.
Change the cartridge with a single touch.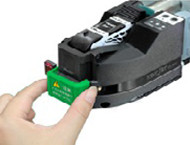 Changing cartridges is extremely easy.
Uses a 5.7-inch full color touch panel.
Simple operation with easy-to-use screen layout.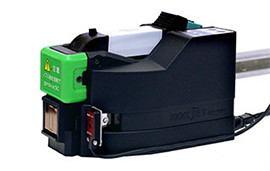 Download
Catalogue(English)

Printing system
Thermal type on demand
Maximum supported line speed
30m/minute (at 600dpi)
Nozzle arrangement
300-dot 600dpi
Ink ejection direction
Horizontal, downward
Character height
Maximum 12.7mm
Number of heads
1
Ink type
Black:TK403
Work detection
Photoelectric sensor
Work detection
Photoelectric sensor
Number of printintable stages
4 stages (maximum)
Number of recorded messages
1000 messages (maximum)
Number of recorded modules per message.
32 modules (maximum)
Number of recorded characters per module.
256 characters (maximum) (for text module)
Character type
Alphabet (upper case/lower case), numbers, symbols, Japanese hiragana, katakana,
kanji (JIS class 1and 2)
Character font
True type fonts (Gothic, Mincho)
Date Time (expiry date) Printing function
Chritian year, traditional Japanese calender year, year/month/day,
day of the week, time (12/24H format)
Numbering function
Max.of 10 digits, (up/down), repeat, increment value setting, zero suppression
Bar code printing function
ITF, Code39, NW-7, JAN, Code128
Two dimensional code printing function
QR Code, data matrix, PDF417
Graphic
Reading from a 2 value BMP file
External interface
USB memory, parallel output
Use environment (temperature, humidity)
5-35°C, 10-80% (however, non-condensing)
Power supply
Less than AC100V