Piezo Ceramic Drive Drop-on-Demand.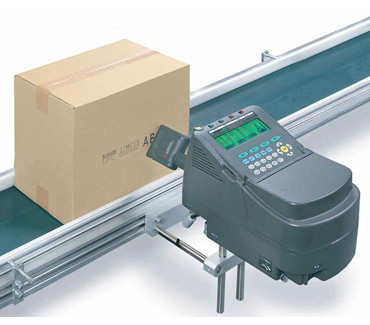 Light weight and compact. User considerate design.
Light, compact body for simple, easy operation.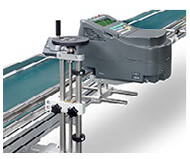 Easily attached to a production line.
Can be easily operated by anyone.
Includes a variety of functions despite its low price.
Can print numberings, automatic calendars, and expiration dates. Backup your data by connecting to a computer.
Copy data between devices with communication cables.
Features our in-house developed print head.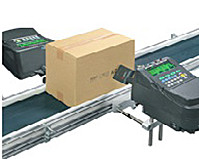 By using our own print head and ink, we also offer reliable after-sales service.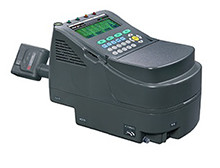 Download
Catalogue(English)

Printing system
Piezo ceramics drive on demand.
Maximum supported line speed
200m / min (concentration 1) ~ 31m / min (concentration of 9)
Nozzle arrangement
32 nozzles, 2 holes / nozzle
Ink ejection direction
Horizontal
Character height
2~20mm, 25.4mm(when vertical)
Number of heads
1
Ink type
Black: CK RED: CK
Work detection
Phototube (head fixing type external type)
Number of printintable stages
1 stages (32×32dot), 2 steges (16×16dot)
Number of recorded messages
30messages
Number of recorded characters per message.
48characters
Character type
Alphabet (upper case / lower case), numbers, symbols, Japanese hiragana, katakana,
kanji(48characters), User recorded characters (customer recorded 180 characters
selected arbitrarily, before shipment).
Character font
Gothic font (16 dot font bold, fine print selectable).
Date Time (expiry date) Printing function
Year (Western / Japanese calendar), month, day, hour (12/24, minute),
free format, offset value can be set, calendar character allocation function.
Numbering function
Max.of 8 digits, (up/down), repeat, increment value setting, zero suppression
Bar code printing function
Improper
Figure
Improper
External interface
I / O: 3 points (preparation ready / low ink / alarming)
RS-232C: data backup and restoration, only usable for software version up
Use environment (temperature, humidity)
5-35°C, 10-80% (however, non-condensing)
Power supply
Less than AC100V
Ground
D type grounding